Contact Center Overview
MPC Plus introduced contact center outsourcing service for the first time in Korea.
28 years of operation experience and operational know-how

Contact Center Service
We analyze the needs of our clients ' services to efficiently operate a variety of services.
Service type
Full Outsourcing
On-site-Outsourcing

· Service provided at MPC Plus Contact Center
· Turn-key Service

· Dispatch of Hankook Corporation personnel to customer's contact center
· A separate service
Type of service work
| Inbound service | Outbound service | Research Service |
| --- | --- | --- |
| Incoming call processing service | Performs sales and marketing activities for pre-arranged customers | Research service to implement customer experience strategy |
Productivity and quality of contact center
Productivity
Quality
Contact Center Service Features
MPC Plus is the only company in Korea that provides both implementation and management.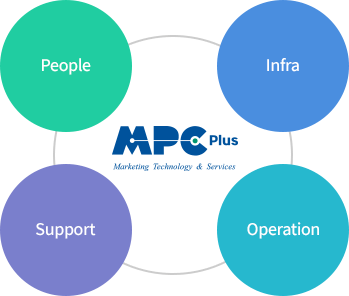 PEOPLE
· Competent Manager
· Recruitment of talented personnel
· Effective employee retention management
INFRA
· Own contact center building
· Own counseling application recording system, CTI system, etc.
· Ensure system stability
· Develop customer-oriented programs
OPERATION
· Efficient operating processes
· Perform a systematic, Full/ In-House-out outsourcing with the operating manual.
· Client custom service
SUPPORT
· Determine the direction for the improvement of the contact center through consulting analysis
· Client improvement process proposal